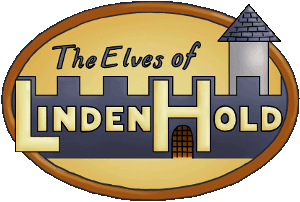 Characters

Gemini
Illusionist. Keeper of the Gate. Most junior member of the elven council.

Syblai
Conjurer. Keeper of the gate. Gemini's twin brother.

Truitt Carnell
Crown Prince of Calindell.

Corliss
A witch from Arledge. Has the power of persuasion.
Hadwin Carnell
King of Calindell.

Aiken
Gemini and Syblai's father. Carpenter. Speaks with plants.
Deryn
Aiken's sister. Healer. Speaks with animals.

Olwynne
Super fast. Deryn's daughter. The twins' double first cousin.

Amaranta
The Gate. A reincarnated elf. Grandmother of Olwynne and the twins.

Rae
Hypnotist. Deryn's assistant. Casually dated Syblai.

Mr. Cat
A reincarnated elf. Corliss's familiar.

Rook
The wizard who caused all that trouble in book 1. Inhabits the body of Geraint Trevelyan.
---
Home
The Elves of Linden Hold is Copyright Irene Wendy Wode 2012.
The Elves of Linden Hold is hosted on
ComicGenesis
, a free webhosting and site automation service for webcomics.